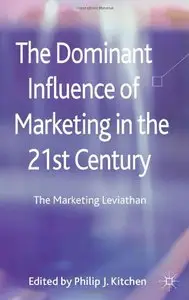 The Dominant Influence of Marketing in the 21st Century: The Marketing Leviathan by Philip J. Kitchen
English | 2013 | ISBN: 0230296831 | 152 pages | PDF | 1 MB
Marketing is firmly entrenched in many societies and seems to be in accord with economic and social developments. It is relevant to literally millions of businesses and 7.1 billion potential customers. It has become a global phenomenon. It affects all businesses, medias, and service agencies and impacts on every man, woman and child on the planet. It is everywhere ubiquitous and omnipresent, and of relevance in emerging world developing nations and of course in the advanced economies of the 21st century.
Marketing has become the dominant connecting mode of expression between business and non-business organisations of all types and sizes, and customers and consumers are continually informed that marketing is in their interest, seeks to fulfil their needs, and changes are invariably presented in a way that are supposedly beneficial to target audiences.
However, there are various misgivings about Marketing. For example, many organisations (business or otherwise) do not adopt a customer or consumer orientation. This is seen in many ways – difficulties in consumers being able to contact organisations except by labyrinthine methods, a disinterest and disclination by businesses to treat consumers with respect, products that do not deliver proclaimed benefits and perhaps are incapable of so doing, services that do not match expectations, and products that while they satisfy needs also damage consumers and the environment.