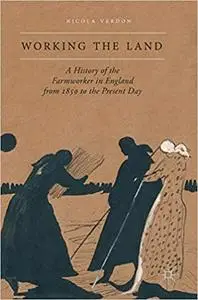 Nicola Verdon, "Working the Land: A History of the Farmworker in England from 1850 to the Present Day"
English | ISBN: 0230304397 | 2017 | 284 pages | EPUB | 4 MB
This book offers a new history of the farmworker in England from 1850 to the present day. It focuses on the paid worker, considering how the experiences of farm work – the work performed, wages earned and conditions of hiring – were shaped by gender, age and region. Combining data extracted from statistical sources with personal and autobiographical accounts, it places the individual farmworker back into a broader collective history. Beginning in the mid-Victorian era, when farmworkers were the most numerically significant occupational group in England, it considers the impact of economic, technological and social change on the scale and nature of farm work over the next hundred and fifty years, whilst also highlighting the continuation of some practices, including the use of casual and migrant workers to perform low-paid, seasonal work. Written in a lively and accessible manner, this book will appeal to those with an interest in rural history, gender history and modern British history.