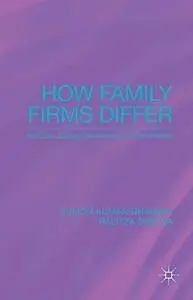 How Family Firms Differ: Structure, Strategy, Governance and Performance by S. Bhaumik
English | 2014 | ISBN: 0230347444 | 124 Pages | PDF | 579.29 KB
Family firms account for a large proportion of firms in most countries. In industrialised countries of North America and Western Europe, they generally account for a large share of small and medium sized enterprises. In emerging market economies such as India, they also account for the majority of the large firms. Their importance for factors such as employment creation notwithstanding, relative to the widely held Anglo-Saxon firms, which are ubiquitous in the economics, finance and management literatures, family firms have historically received much less attention from scholars of these disciplines. However, in part owing to increased focus on emerging markets, there is a growing literature on family firms. In How Family Firms Differ, the authors explore important aspects of family firms, drawing on the existing literature and their own research on these firms.