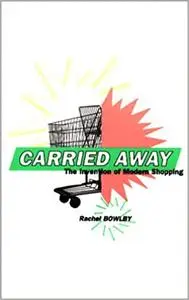 Rachel Bowlby, "Carried Away: The Invention of Modern Shopping"
English | 2001 | pages: 256 | ISBN: 0231122748 | EPUB | 1,8 mb
Asserting that a history of shopping was, until recently, a history of women, Rachel Bowlby trains her eye on the evolution of the modern shopper. She uses a compelling blend of history, literary analysis, and cultural criticism to explore the rise of department stores and supermarkets of the United States, France, and Great Britain.
Bowlby recalls the fascinating early days of these institutions. In the mid-nineteenth century, when department stores first developed, their fabulous new buildings brought middle-class women into town, where they could indulge in what was then a new activity: a day's shopping. The stores offered luxury, flattering women into believing that they belonged in a beautiful environment. It is here, Bowlby argues, that the idea of the modern woman's passion for fashion and shopping took hold.
Developed in the twentieth century, supermarkets took an opposite tack: they offered functionality, standardization, and cheapness. However, Bowlby claims, despite their differences, the two institutions belong together as emblematic of their respective eras' social developments: the department store with the growth of cities, the supermarket with the proliferation of suburbs. With their dazzling lights and displays, both supermarkets and department stores were thought to produce in females an enhanced or trance-like state of mind.
For readers who regard shopping as a spectator or participatory sport, and for those who wish to understand our culture and the psychology of women, or those who simply enjoy a witty, literate romp through the aisles, Carried Away is the perfect purchase.
My Link