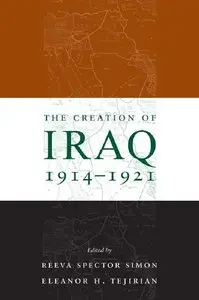 Gary Sick, Reeva Spector Simon, Eleanor H. Tejirian "The Creation of Iraq, 1914-1921"
Columbia University Press | 2004-11-17 | ISBN: 0231132921 | 200 pages | PDF | 1 MB
With the U.S.-led Operation Iraqi Freedom, we are reminded that almost one hundred years ago, Great Britain undertook a similar process of regime change and territorial reorganization in the same region of the world. In the thick of world conflict, with its strategic interests in the balance, the British had to begin planning for the aftermath of the World War that permitted the redrawing of borders and the creation of new political entities. One year after the beginning of World War I, preparations for a new strategic order in the Middle East were already underway. For the Allies – Britain, France, and Russia – the task was different from that of the United States today. Yet unlike the Coalition forces that in 2003 proclaimed the territorial integrity of Iraq, the British began from scratch: until 1921, the country of Iraq did not exist. How did this actually come about? And what were the reactions of the peoples living in that contested territory?
This collection of essays by leading scholars provides a comprehensive yet accessible overview of Iraq's history and its strategic importance from three points of view: local residents, Iraq's neighbors (Iran, Turkey, and Kurdistan), and the Great Powers. The book captures the complexity of forces that contributed to the making of Iraq as a modern state, integrating short and long term policy, individual and group interests, and the impact of World War I. The Creation of Iraq helps readers to understand the dynamics and interplay of regional history and geo-strategic and imperial priorities in an area of the world that will continue to dominate international politics for years to come.
Download FREE:
No Mirror(s) Please!