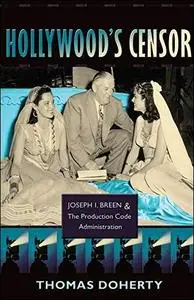 Hollywood's Censor: Joseph I. Breen and the Production Code Administration by Thomas Doherty
English | November 2, 2007 | ISBN: 0231143583, 0231143591 | EPUB | 440 pages | 8.5 MB
From 1934 to 1954 Joseph I. Breen, a media-savvy Victorian Irishman, reigned over the Production Code Administration, the Hollywood office tasked with censoring the American screen. Though little known outside the ranks of the studio system, this former journalist and public relations agent was one of the most powerful men in the motion picture industry. As enforcer of the puritanical Production Code, Breen dictated "final cut" over more movies than anyone in the history of American cinema. His editorial decisions profoundly influenced the images and values projected by Hollywood during the Great Depression, World War II, and the Cold War.
Cultural historian Thomas Doherty tells the absorbing story of Breen's ascent to power and the widespread effects of his reign. Breen vetted story lines, blue-penciled dialogue, and excised footage (a process that came to be known as "Breening") to fit the demands of his strict moral framework. Empowered by industry insiders and millions of like-minded Catholics who supported his missionary zeal, Breen strove to protect innocent souls from the temptations beckoning from the motion picture screen.
There were few elements of cinematic production beyond Breen's reach—he oversaw the editing of A-list feature films, low-budget B movies, short subjects, previews of coming attractions, and even cartoons. Populated by a colorful cast of characters, including Catholic priests, Jewish moguls, visionary auteurs, hardnosed journalists, and bluenose agitators, Doherty's insightful, behind-the-scenes portrait brings a tumultuous era—and an individual both feared and admired—to vivid life.