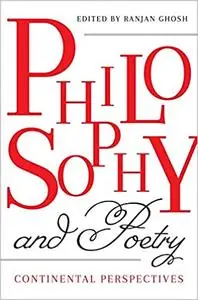 Ranjan Ghosh, "Philosophy and Poetry: Continental Perspectives"
English | ISBN: 0231187386 | 2019 | 344 pages | PDF | 2 MB
Ever since Plato's Socrates exiled the poets from the ideal city in The Republic, Western thought has insisted on a strict demarcation between philosophy and poetry. Yet might their long-standing quarrel hide deeper affinities? This book explores the distinctive ways in which twentieth-century and contemporary continental thinkers have engaged with poetry and its contribution to philosophical meaning making, challenging us to rethink how philosophy has been changed through its encounters with poetry.
In wide-ranging reflections on thinkers such as Heidegger, Gadamer, Arendt, Lacan, Merleau-Ponty, Deleuze, Irigaray, Badiou, Kristeva, and Agamben, among others, distinguished contributors consider how different philosophers encountered the force and intensity of poetry and the negotiations that took place as they sought resolutions of the quarrel. Instead of a clash between competing worldviews, they figured the relationship between philosophy and poetry as one of productive mutuality, leading toward new modes of thinking and understanding. Spanning a range of issues with nuance and rigor, this compelling and comprehensive book opens new possibilities for philosophical poetry and the poetics of philosophy.