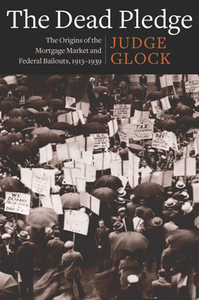 The Dead Pledge :
The Origins of the Mortgage Market and Federal Bailouts, 1913–1939
by Judge Glock
English | 2021 | ISBN: 0231192533 | 302 Pages | ePUB | 29 MB
The American government today supports a financial system based on mortgage lending, and it often bails out the financial institutions making these mortgages. The Dead Pledge reveals the surprising origins of American mortgages and American bailouts in policies dating back to the early twentieth century.
Judge Glock shows that the federal government began subsidizing mortgages in order to help lagging sectors of the economy, such as farming and construction. In order to encourage mortgage lending, the government also extended unprecedented assistance to banks. During the Great Depression, the federal government made new mortgage lending and bank bailouts the centerpiece of its recovery program. Both the Herbert Hoover and Franklin Roosevelt administrations created semipublic financial institutions, such as Fannie Mae, to provide cheap, tradable mortgages, and they extended guarantees to more banks and financiers. Ultimately, Glock argues, the desire to protect the financial system took precedence over the desire to help lagging parts of the economy, and the government became ever more tied into the financial world.
The Dead Pledge recasts twentieth-century economic, financial, and political history and demonstrates why the greatest "safety net" created in this era was the one supporting finance.
If you want to support my blog, then you can buy a premium account through any of my files (i.e. on the download page of my book). In this case, I get a percent of sale and can continue to delight you with new books!