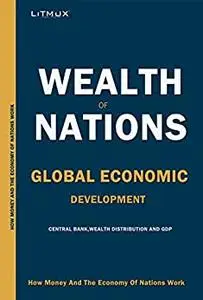 Wealth Of Nations: Global Economic Development And Prosperity. How Money And The Economy Of Nations Work by Paul Odame
English | October 30, 2021 | ISBN: N/A | ASIN: B09KQW9T65 | 132 pages | EPUB | 0.13 Mb
Economic growth is often seen as essential for economic prosperity, and indeed is one of the factors used as a measure of prosperity. The value of most currencies is closely tied to the economy of the county.
Have you ever wondered why almost every country prints their own currencies, yet economic crises arise within the county? What is the difficulty for the government in printing the money?
Why do some countries need to take debt from other countries when they are self-responsible for printing money?
There are so many principles that govern the prudency or the rightness in printing currency by the authorities. A currency note is technically a bearer promissory note, where in the issuing authority promises to pay the bearer the value of it whenever demanded.
As the years passed, with economies growing and the population exponentially increasing, it became difficult to back the money issued with Gold. The authorities then adopted what is called the Minimum Reserve System. The Gold kept as reserve was minimum and the money is issued under the system of minimum reserve (issuing unlimited currency). This money is called the Fiat money.
By 1975, all of the oil-producing nations of OPEC had agreed to price their oil in dollars. This make the petrol the most important mean of exchange for U.S
One more factor that restricts the printing of money is "Inflation" :
If we print more money, prices will rise such that we're no better off than we were before. It can be considered dangerous because printing money causes inflation in an economy, and if you print too much money you can also get hyper – inflation.
On the other hand when the general price level rises, each unit of currency buys fewer goods and services and that is called the inflation.
This means country needs to be more competitive by producing cheaper goods, technological advancements and facilitating exports to become rich. In this way demand of locally produced goods and services would fetch money and hence paves the way to become rich country.
Feel Free to contact me for book requests, informations or feedbacks.
Without You And Your Support We Can't Continue
Thanks For Buying Premium From My Links For Support