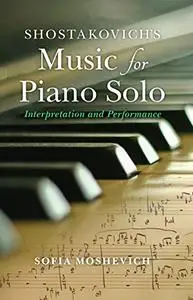 Sofia Moshevich, "Shostakovich's Music for Piano Solo: Interpretation and Performance"
English | 2015 | ISBN: 0253014220 | PDF | pages: 242 | 3.9 mb
The piano works of Dmitri Shostakovich (1906–1975) are among the most treasured musical compositions of the 20th century. In this volume, pianist and Russian music scholar Sofia Moshevich provides detailed interpretive analyses of the ten major piano solo works by Shostakovich, carefully noting important stylistic details and specific ways to overcome the numerous musical and technical challenges presented by the music. Each piece is introduced with a brief historic and structural description, followed by an examination of such interpretive aspects as tempo, phrasing, dynamics, voice balance, pedaling, and fingering. This book will be an invaluable resource for students, pedagogues, and performers of Shostakovich's piano solos.