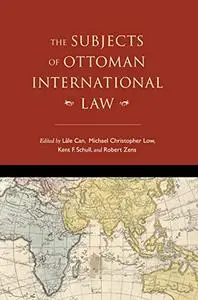 The Subjects of Ottoman International Law by Lâle Can, Michael Christopher Low, Kent F. Schull, Robert Zens
2020 | ISBN: 0253056616 | English | 282 pages | PDF | 2 MB
The core of this edited volume originates from a special issue of the Journal of the Ottoman and Turkish Studies Association (JOTSA) that goes well beyond the special issue to incorporate the stimulating discussions and insights of two Middle East Studies Association conference roundtables and the important work of additional scholars in order to create a state-of-the-field volume on Ottoman sociolegal studies, particularly regarding Ottoman international law from the eighteenth century to the end of the empire. It makes several important contributions to Ottoman and Turkish studies, namely, by introducing these disciplines to the broader fields of trans-imperial studies, comparative international law, and legal history. Combining the best practices of diplomatic history and history from below to integrate the Ottoman Empire and its subjects into the broader debates of the nineteenth-century trans-imperial history this unique volume represents the exciting work and cutting-edge scholarship on these topics that will continue to shape the field in years to come.