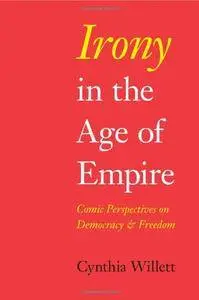 Irony in the Age of Empire: Comic Perspectives on Democracy and Freedom (American Philosophy) by Cynthia Willett
English | 2008 | ISBN: 0253351669 | 184 Pages | PDF | 993.74 KB
Comedy, from social ridicule to the unruly laughter of the carnival, provides effective tools for reinforcing social patterns of domination as well as weapons for emancipation. In Irony in the Age of Empire, Cynthia Willett asks: What could embody liberation better than laughter? Why do the oppressed laugh? What vision does the comic world prescribe? For Willett, the comic trumps standard liberal accounts of freedom by drawing attention to bodies, affects, and intimate relationships, topics which are usually neglected by political philosophy. Willett's philosophical reflection on comedy issues a powerful challenge to standard conceptions of freedom by proposing a new kind of freedom that is unapologetically feminist, queer, and multiracial. This book provides a wide-ranging, original, thoughtful, and expansive discussion of citizenship, social manners, and political freedom in our world today.