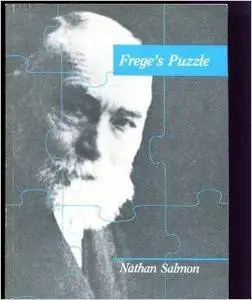 Frege's Puzzle by Nathan U. Salmon
English | 1986 | ISBN: 0262192462 | 216 Pages | PDF | 151.97 MB
The nature of the information content of declarative sentences is a central topic in the philosophy of language. The natural view that a sentence like "John loves Mary" contains information in which two individuals occur as constituents is termed the naive theory, and is one that has been abandoned by most contemporary scholars. This theory was refuted originally by philosopher Gottlob Frege. His argument that the naive theory did not work is termed Frege's puzzle, and his rival account of information content is termed the orthodox theory.
In this detailed study, Nathan Salmon defends a version of the naive theory and presents a proposal for its extension that provides a better picture of information content than the orthodox theory gives. He argues that a great deal of what has generally been taken for granted in the philosophy of language over the past few decades is either mistaken or unsupported, and consequently, much current research is focused on the wrong set of questions.
Salmon dissolves Frege's puzzle as it is usually formulated and demonstrates how it can be reconstructed and strengthened to yield a more powerful objection to the naive theory. He then defends the naive theory against the new Frege puzzle by presenting an idea that yields both a surprisingly rich and powerful extension of the naive theory and a better picture of information content than that of the original orthodox theory.
Nathan Salmon is Professor of Philosophy, University of California at Santa Barbara. A Bradford Book.