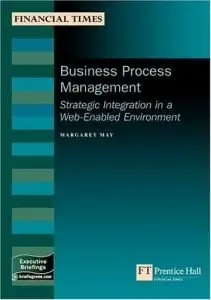 Margaret May, "Business Process Management: Strategic Integration In A Web-enabled Environment"
Fin..al Tmes M..ment | 2002 | ISBN: 0273661086 | 280 pages | PDF | 1,7 MB
Today, more and more organizations are recognizing the opportunities that web technology can offer. They are using internet capability to extend their business processes beyond the traditional boundaries of their companies. By utilizing internet standards, services and applications, organizations are removing manual activity from their business processes, and are directly linking with their customers, suppliers and their partners, wherever they are. The resultant integration of the business community is transforming the structure and the culture of organizations, particularly in non-core areas such as finance.
Business Process Management: Integration in a web-enabled environment provides you with a practical briefing and explains what a web-enabled organization looks like and what is required to build and manage the necessary end-to-end processes. Discussing both the technology and the new practices, it offers practical guidance on how to analyze your existing business processes, how to re-engineer them and successful implementation, as well as the role of finance.
Essential reading for senior executives, this briefing will give you a thorough understanding of the opportunities and benefits, explaining how web-enabled business processes can transform the way your organization operates. Fully illustrated with leading edge examples from Cisco and Dell, plus original case studies including e-procurement at Unilever and successful ERP implementation at RNLI.
Download