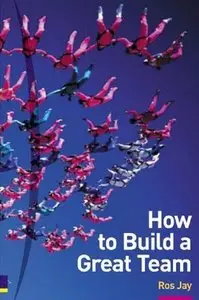 How to Build a Great Team by Ros Jay
English | 2002 | ISBN: 0273663232 | Pages: 176 | PDF | 1 MB
How to choose the right people for the right roles and create a winning team that consistently performs. Have you ever wished you could do everything? Be organized, full of ideas, a great diplomat, a natural leader, a thorough researcher and a great salesperson? It's a tall order.
But, if you've created a great team made up of people with all these qualities then there's no need for every single member to have every useful ability or skill. It's far easier to overcome problems when everyone is working together.
How to Build a Great Team is the guide to honing your people skills to create and get the best from your team. It examines the essential skills, identifies the best way to handle particular people or situations, and also shows how those techniques work. Once you've picked the right people with the right combination of skills and personalities, it shows you how to maintain your team spirit and go on building as your team develops.
Ros Jay is a freelance writer and editor. She writes on a range of business topics specializing in marketing and communication-related subjects. She also writes for and edits corporate magazines both in print and on the net. She is a senior associate of the Institute of Direct Marketing.
My nickname -
interes