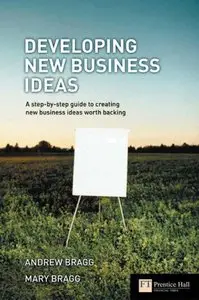 Andrew Bragg, Mary Bragg, "Developing New Business Ideas: A Step-by-step Guide to Creating New Business Ideas Worth Backing"
Tr.ns-Atl..tic Publications | 2006 | ISBN: 0273663259 | 266 pages | PDF | 1,6 MB
..the vast numbers of books devoted to the subject…have done little to improve the situation…Andrew and Mary Bragg's Developing New Business Ideas might just be the book to change much of this…If this book can help investors and would-be entrepreneurs in this area it will do not just them, but also the economy as a whole a great service." Roger Trapp, Independent on Sunday "Developing New Business Ideasis a truly original book, with a fabulous blend of lessons and inspiring real business stories. Most importantly, it demonstrates in a practical and easy to understand manner how to put creativity and innovation into action." - Lord Bilimoria CBE DL, founder and Chief Executive, Cobra Beer At some time in their life, almost everyone in business has an idea for a new enterprise. The idea might be sparked by dissatisfaction with an existing product, experiencing something new while traveling or simply finding that nobody in the market is serving your particular need. The idea could be for a new venture for your business to launch, or for new business of your own. But most ideas remain just that: ideas.We struggle to develop them, wondering if they will work, why nobody has already thought of them and how we could ever turn them into a profitable reality. How do you take a promising thought and develop it into an enterprise worth backing? That is the question that this book sets out to answer. In Developing New Business Ideas, Andrew and Mary Bragg provide a practical guide to creating, shaping, evaluating, refining and implementing new business ideas. The book demonstrates that it is within absolutely everybody's power to take the first germ of a business idea and to systematically creatively challenge and commercially develop that idea into a viable business opportunity. Using a practical four-step creative process, Developing New Business Ideas offers a wide-range of hands-on, how-to-actually-do-it techniques to help you add value and viability to your original idea. It will also introduce you to the experiences of a range of today's successful entrepreneurs, enabling you to learn from the creative lessons that they learned as they built their businesses.Supported by its own set of online tools, Developing New Business Ideas is an imaginative and interactive companion to converting creativity into successful enterprise. "Having had your bright, fresh, original idea, the really hard part is turning it into successful reality. By detailing four structured steps to developing saleable products or services from that first idea, this excellent and imaginative guide significantly simplifies that task. Essential reading for all would-be entrepreneurs". Trevor Baylis OBE, the inventor of the clockwork radio."
Download