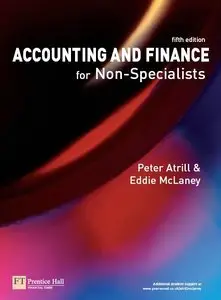 Peter Atrill, Eddie McLaney, "Accounting and Finance for Non-Specialists 5th Editon"
Fin ncal Ti es Man ement | 2006 | ISBN: 0273702440 | 538 pages | PDF | 14,8 MB
Now in its fifth edition, this successful text introduces the basic principles and underlying concepts of accounting and finance. It adopts a practical, non-technical approach, making it the ideal text for students from non-accounting disciplines.
The text is written from a 'user' perspective, demonstrating ways in which accounting statements and financial information can be used to improve the quality of decision making.
The fifth edition has been fully updated and revised throughout and has the following key features:
* A lively presentational style with extracts from newspapers and company reports to provide a real-life context.
* Real World boxes demonstrate the practical application and value of concepts and techniques learnt.
* An 'open-learning' approach with numerous activities, worked examples and questions interspersed throughout the text to aid understanding makes the book ideal for self-study
* The decision making focus on the use of accounting information rather than the preparation is highly appropriate for tomorrow's business managers.
* An extensive range of additional resources, including further exercises, innovative case studies, and multiple-choice questions
Accounting and Finance for Non-specialists, 5e is aimed primarily at students who are not majoring in accounting or finance but who are studying introductory level accounting as part of their course.
Download