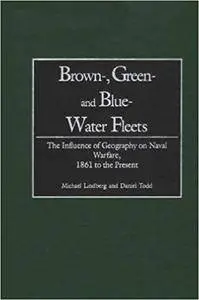 Michael Lindberg, Daniel Todd, "Brown-, Green- and Blue-Water Fleets: The Influence of Geography on Naval Warfare, 1861 to the Present"
2001 | pages: 249 | ISBN: 0275964868 | PDF | 14,5 mb
From riverine operations in the American Civil War and China in the 1860s to the major fleet engagements of the World Wars, plus more recent naval actions in the Falklands/Malvenas War and Gulf War, Lindberg and Todd methodically show how geography has shaped the strategy, tactics, and tools of naval warfare. Alfred T. Mahan was perhaps the first naval professional to recognize and acknowledge fully the influence of geography on navies and naval warfare. Many of his principles of seapower were inherently geographical and influenced both what kind of naval force a state would possess and how it would be utilized. In the time that has passed since Mahan made his observations, naval warfare and navies have experienced major technological changes, yet geographical factors continue to exert their influence on how navies fight, how they are structured, and the design of the ships that they deploy.
After providing a comprehensive review of geostrategic theory and its application to naval warfare, the book is organized by major operational environments in which such warfare occurs–the high seas, littoral regions, and inland waterways. Lindberg and Todd illustrate how such geographical factors as distance, location, surface, and subsurface conditions influence naval operations, including fleet-to-fleet engagements, amphibious assault, coastal defense, logistical support, and riverine actions. A separate chapter takes an in-depth look at the ways in which geography influences navies themselves with issues such as primary mission type, force structure development, and ship design. Through the use of historical case studies, this volume applies long held geographical concepts to fundamental naval theories and practices to illustrate just how pervasive geography's influence has been during the past 140 years.
My Link