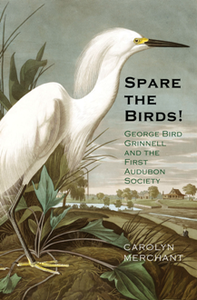 Spare the Birds! : George Bird Grinnell and the First Audubon Society
by Carolyn Merchant
English | 2016 | ISBN: 0300215452 | 367 Pages | PDF | 6.73 MB
In 1887, a year after founding the Audubon Society, explorer and conservationist George Bird Grinnell launched Audubon Magazine. The magazine constituted one of the first efforts to preserve bird species decimated by the women's hat trade, hunting, and loss of habitat. Within two years, however, for practical reasons, Grinnell dissolved both the magazine and the society. Remarkably, Grinnell's mission was soon revived by women and men who believed in it, and the work continues today. In this, the only comprehensive history of the first Audubon Society (1886–1889), Carolyn Merchant presents the exceptional story of George Bird Grinnell and his writings and legacy. The book features Grinnell's biographies of ornithologists John James Audubon and Alexander Wilson and his editorials and descriptions of Audubon's bird paintings. This primary documentation combined with Carolyn Merchant's insightful analysis casts new light on Grinnell, the origins of the first Audubon Society, and the conservation of avifauna.