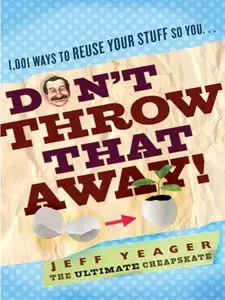 Don't Throw That Away!: 1,001 Ways to Reuse Your Stuff So You… by Jeff Yeager
English | 2012 | eISBN: 030795644X , 1299079318 | eISBN-13: 9780307956446 , 9781299079311 | 124 pages | EPUB | 2 MB
Prompted by the recession, the growing interest in frugality, and his passion for environmental conservation, Jeff Yeager presents Don't Throw That Away!, a practical and entertaining guide devoted entirely to the second element of the old environmentalist's mantra: Reduce, Reuse, Recycle.
With the humor and zaniness that readers have come to love from America's beloved Ultimate Cheapskate, Don't Throw That Away!, Jeff's first eBook original (talk about saving money on paper!), offers a slew of creative ways to repurpose all sorts of items that will have you saving money and the earth's resources:
• Make a "cheapskate soap-on-a-rope" using a pair of worn out pantyhose and those little slivers of soap you normally discard.
• Craft the perfect inflatable travel pillow using the plastic bladder from inside an empty container of "box wine" (bonus: making one will help you fall asleep).
• Boil citrus rinds in water for 1 minute on the stove or in the microwave for a natural kitchen air freshener.
From bottle caps to dryer lint, latex condoms to sour milk, Yeager proves that there's a way to repurpose it. Seasoned with thought-provoking facts about our disposable society and with short profiles of some true geniuses of creative repurposing (like the guy who covered his house with crushed beer cans to save money on aluminum siding), this eBook original will have you thinking twice before you reach for the garbage can and saying, "Whatever you do, Don't Throw That Away!"
"I call it creative repurposing: Finding an alternative use—or ten—for items we all throw away every day. Of course, I come from a long line of creative repurposers. My grandmother used to make Christmas decorations out of the specimen cups from my grandfather's visits to the urologist. And you wonder why I have issues?" —Jeff Yeager, the Ultimate Cheapskate