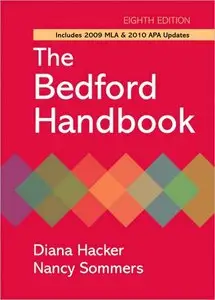 The Bedford Handbook with 2009 MLA and 2010 APA Updates, Eighth Edition by Diana Hacker and Nancy Sommers
English | ISBN: 0312652682 , 0312652690 | 2009 | 913 pages | PDF | 7,9 MB
The Bedford Handbook carries on the Hacker tradition by responding to student writers' needs and to the way students need their handbook to work. Still a full-size handbook that doubles as a reference, the Handbook features clear, straightforward advice, hand-edited sentences, a user-friendly index, and a handy format.
The eighth edition combines classic Hacker usability with a next-generation focus on academic writing and research and new navigation that helps students pull together advice and models for each assignment. Developed with the help of students and teachers at more than 35 colleges and universities, the new edition reflects the ways students write and revise in their composition course and beyond. What's more, The Bedford Handbook remains a portable size; it's still a comprehensive reference that's as easy to consult as it is to carry.