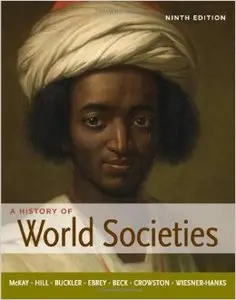 John P. McKay, Bennett D. Hill, "A History of World Societies, Combined Volume (9th Edition) "
2011 | ISBN-10: 0312666918 | 1192 pages | PDF | 271 MB
A History of World Societies introduces students to the global past through social history and the stories and voices of the people who lived it. Now published by Bedford/St. Martin's, and informed by the latest scholarship, the book has been thoroughly revised with students in mind to meet the needs of the evolving course. Proven to work in the classroom, the book's regional and comparative approach helps students understand the connections of global history while providing a manageable organization. With more global connections and comparisons, more documents, special features and activities that teach historical analysis, and an entirely new look, the ninth edition is the most teachable and accessible edition yet.