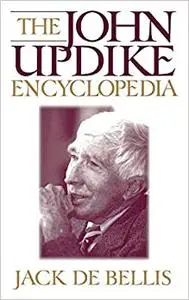 Jack De Bellis, "The John Updike Encyclopedia"
English | 2000 | ISBN: 0313299048 | PDF | pages: 583 | 8.6 mb
John Updike is one of the most seminal American writers of the 20th century and one of the most prolific as well. In addition to his best-selling novels, he has written numerous poems, short stories, reviews, and essays. His writing consistently reveals stylistic brilliance, and through his engagement with America's moral and spiritual problems, his works chronicle America's hopes and dreams, failures and disappointments. Though he is an enormously popular writer, the complexity and elegance of his works have elicited growing scholarly attention. Through several hundred alphabetically arranged entries, this book provides both casual and serious readers an exceptional guide to his life and writings.
Whether the reader is seeking a novel summary, an authoritative analysis of subjects, elucidation of an allusion, or a point about Updike's life or manner of composition, the encyclopedia is indispensable. A chronology summarizes the major events in Updike's career, while an introductory essay examines his progress as a writer, from his crafted light verse and informed reviews to his innovative novels and stories. The entries that follow summarize Updike's books, describe all major characters, explain allusions, identify major images and symbols, analyze principal subjects, discuss his life and career, and draw on the most significant scholarship. Entries include bibliographies, and the volume closes with a list of works for further reading.