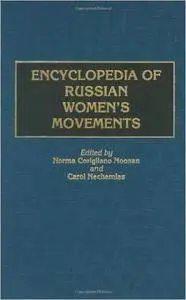 Noonan Norma C , Carol R. Nechemias, "Encyclopedia of Russian Women's Movements"
2001 | ISBN-10: 0313304386 | 424 pages | PDF | 2 MB
A comprehensive resource profiling individuals and organizations associated with Russian women's movements from the early 19th century to the post-Soviet era. Contributions by approximately fifty authors from the United States, Russia, Europe, and Canada focus upon the struggle of women to change their society and advance their gender interests. Women activists pursued improvement in educational opportunities, fought for suffrage, established journals, and sought to transform women's consciousness and establish women's studies programs and women's crises centers. They were a strong voice against the tsarist regime and the oppression of communism. Their objectives were as diverse as their strategies, which ranged from incremental reform, to terrorism, to the establishment of women's electoral organizations.
This volume contains a comprehensive glossary of term and phrases and a chronology to help put events and developments into historical context. Entries are fully cross-referenced and are followed by suggested readings. This book will be of interest to students and scholars of Russian history and politics, women's history and gender studies.