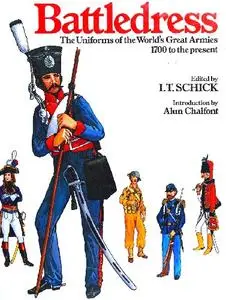 Battledress: The Uniforms of the World's Great Armies, 1700 to the Present
1978 | ISBN: 0316773344 | English | 264 Pages | PDF | 120,3 MB
The advantages of a standardized uniform are perhaps very obvious to us in the twentieth century - easy identification of friend or foe and better discipline, to name but two - but the idea of 'uniform' only appeared with the standing army of the late seventeenth century, and the word 'uniform' did not reach Germany from France until the eighteenth century. This book traces the development of the uniforms of the great armies of the world from the Wars of European Succession to the Atomic Age; from the irregular and sometimes not very practical garb of the armies of the eighteenth century to the highly sophisticated and well-camouflaged uniforms and machinery with which we are familiar today.
Not only are the essential types of uniforms methodically described but the history as well as the psychology of uniform is discussed by leading experts in the field. This book is also a remarkable artistic achievement; its 96 pages of full color include over 700 original drawings of individual soldiers by Wilhelm von Halem - a German painter with a lifelong interest in historical uniforms and customs - as well as splendid battle scenes by some of the world's most authoritative painters. There are also 60 black and white paintings and engravings.