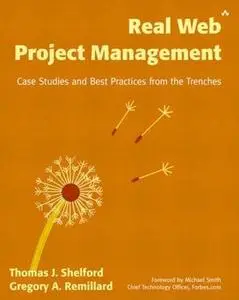 Thomas J. Shelford / Gregory A. Remillard, «Real Web Project Management: Case Studies and Best Practices from the Trenches»
Addison-Wesley | ISBN 0321112555 | (October 25, 2002) | PDF | 1 Mb | 336 Pages
URL:
/
http://www.amazon.com/exec/obidos/ASIN/0321112555
From the Back Cover:
The process of designing and building today's dynamic Web applications comes with a host of challenges not typically solved by traditional project management methodologies. A wealth of practical resources, Real Web Project Management: Case Studies and Best Practices from the Trenches is a book of solutions for designing, managing, and delivering virtually any type of Web-based project under even the most challenging of conditions.

Based on solutions implemented from actual, real-world scenarios, this practical book offers a complete road map for navigating every facet of a contemporary Web project. Filled with tips and techniques, it provides practices to implement and pitfalls to avoid to ensure success. Beginning by outlining the responsibilities of the project manager, this complete and comprehensive guide then covers team assembly and communication, project definition, change management, planning strategies, and workflow before moving on to the design, build, and delivery stages. The book's accessible format also provides immediate hands-on solutions for project managers seeking a quick answer to a particular problem.

Issues covered include:

* The Web project manager–definitions and responsibilities
* The project team–assembling and tips for effective collaborative communication
* The project–defining and planning, plus managing change in any type of environment
* The Workflow–processes and analysis
* The design and build phases–managing and quality control
* The delivery of a completed project

This book is packaged with a value-added CD-ROM, which includes complete project plan templates, model Web sites, project checklists, consulting contracts, software vendor reviews, and more. Additional resources and templates are available on the book's accompanying Web site at http://www.realwebprojects.com.

All of this makes Real Web Project Management an essential reference for the working project manager, or for those new to the field. It is the most comprehensive resource available for planning, managing, and executing successful Web-based applications.
Thanks to kfman1
Download