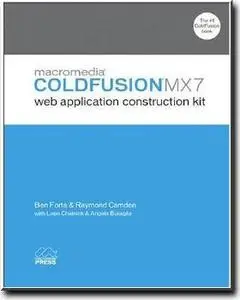 Macromedia ColdFusion MX 7 Web Application Construction Kit by Ben Forta, Raymond Camden, Leon Chalnick, Angela C. Buraglia
Publisher: Macromedia Press; Bk&CD-Rom edition (March 23, 2005) | ISBN: 0321223675 | CHM | 36,9 Mb | 1440 pages
With more than 75 of the Fortune 100 companies using it (and more than 10,000 organizations employing it worldwide), it's pretty much a given that if you're developing applications for the Web, you're going to need to know ColdFusion at some point! Not to worry: Macromedia ColdFusion MX 7 Web Application Construction Kit provides everything you need to start creating Web-based applications immediatelyincluding the latest version of the ColdFusion Web Application Server and development environment. Author and ColdFusion master Ben Forta starts by covering the fundamentals of Web-based database design and then proceeds to show you how to do everything from create data-driven pages to build complete applications, implement security mechanisms, integrate with e-mail, interact with Macromedia Flash, and more. From design and installation to application deployment and troubleshooting, this guide's got ColdFusion covered, including all the features new to the latest version: structured business reports, rich forms, Enterprise Manager (which lets users cluster multiple ColdFusion servers on a single machine), and more!
Download from Rapidshare
or
Download from Depositfiles