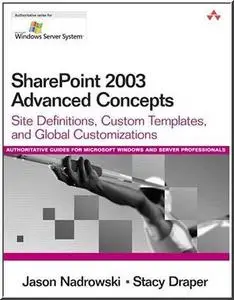 SharePoint 2003 Advanced Concepts: Site Definitions, Custom Templates, and Global Customizations (Microsoft Windows Server System Series) by Jason Nadrowski, Stacy Draper
Publisher: Addison-Wesley Professional (March 8, 2006) | ISBN-10: 0321336615 | CHM | 6,6 Mb | 288 pages
In SharePoint 2003 Advanced Concepts, two world-class SharePoint consultants show how to make SharePoint «jump through hoops» for you and do exactly what you want. SharePoint 2003 Advanced Concepts addresses every facet of SharePoint customization, from site definitions and templates to document libraries and custom properties. The authors cover both Windows SharePoint Services and SharePoint Portal Server 2003 and illuminate SharePoint's interactions with other technologies–helping you troubleshoot problems far more effectively.