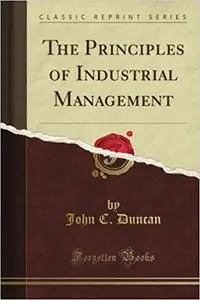 John C. Duncan, "The Principles of Industrial Management"
English | 2012 | ISBN: 0344985253 | 360 pages | PDF | 8.3 MB
The writer has long felt the need of a scientific treatment of industrial management. Hundreds of young men are now in our schools and colleges intending to engage in the world of affairs, and it is exceedingly important that they gain a clear conception of the principles underlying the successful conduct of industrial enterprises. The material in this book is gathered from many sources. Merely to mention the people to whom the author is indebted for data within these covers would fill several pages with names. The writer has endeavored to give full credit in the text for the drawings, plates, and diagrams, and, unless accidentally overlooked, all books and articles from which he has received assistance have been cited. In the text, however, there is no mention of his obligations to Judge Elbert H. Gary and Mr. Richard Trimble, of the United States Steel Corporation, to Mr. Wm. Laughlin, of Armour and Company, Mr. H. C. Folger, Jr., of the Standard Oil Company, Mr. E. Collins, Jr., of the Sauquoit Silk Manufacturing Company, Mr. L. A. Osborne, Vice-P resident of the Westinghouse Electric and Manufacturing Company, and Mr. H. E. Neise, of the American Sugar Refining Company; so he takes this opportunity to thank them for their many favors.
(Typographical errors above are due to OCR software and don't occur in the book.)