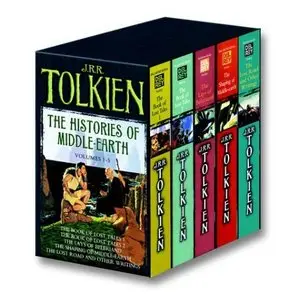 The Histories of Middle Earth, Volumes 1-5
Publisher: Del Rey | ISBN: 0345466454 | edition 2003 | PDF | 5,57 mb
"Lord of the Rings" was the climax. Silmarillion was the Bible. And the Histories of Middle-Earth series is the big stack of history books. Author J.R.R. Tolkien wrote a vast fictional history of Middle-Earth, and the first five volumes of the Histories are compiled here. The evolving backdrop of stories about Elves, Men, and the rich tapestry of fictional history is shown here, such as earlier versions of the legendary romance of Beren and Luthien, or the history of the Valar. Not the finished product of "Silmarillion," but older drafts riddled with footnotes and commentary from Tolkien's son Christopher. What's more, it includes linguistic evolution, exquisite poetry, and a time travel story that evolved into something much greater.