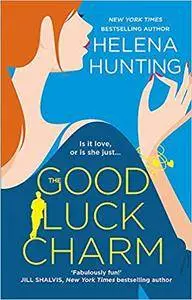 The Good Luck Charm by Helena Hunting
English | 7 Aug. 2018 | ISBN: 0349421439 | 352 Pages | EPUB | 311.13 KB
Is it love, or is she just his good luck charm? New York Times and USA Today bestselling author Helena Hunting brilliantly captures the hilarity and heartache of first love and second chances in her sexy new romantic comedy.
Lilah isn't sure what hurt worse: the day Ethan left her to focus on his hockey career or the day he came back eight years later. He might think they can pick up just where they left off, but she's no longer that same girl and never wants to be again.
Ethan wants his glory days back. And that includes having Lilah by his side. With her, he was magic. They were magic. All he has to do is make her see that.
Just when Lilah might finally be ready to let Ethan in, though, she finds out their reunion might have nothing to do with love and everything to do with improving his game. But Ethan's already lost her once, and even if it costs him his career, he'll do anything to keep from losing her again.
'The perfect combination of sexy, sweet, and hilarious. A feel-good beach read you won't want to miss' K. Bromberg, New York Times bestselling author, on Shacking Up