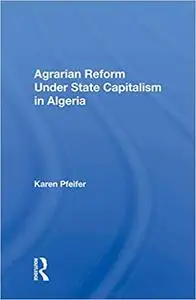 Karen Pfeifer, "Agrarian Reform Under State Capitalism In Algeria"
English | ISBN: 0367008246 | 2019 | 284 pages | PDF | 23 MB
I should like to express my gratitude to some of the peopl e whose hel p and support made this wor k possible. Claudine Chaulet, Rachid Benattig, and the other staff members at the CREA institute in Algiers provided me with access to information for the original research and with an atmosphere of friendly encouragement and positive critical thinking. My friends, Dorothy and Mahfoud Bennoune, made my research trip to Algeria both pleasantly memorable and productive. Cynthia Taft Morris and James Paul provided badly needed critical commentary and encouragement on an earlier version of this work. The reformulation of that earlier work into this book subsequently benefited from critical readings by Robert Haddad and David Kotz. Betty Nanartonis and Letitia Sloan did a superb and dedicated job on the word processing. Ellen Dibble, Jackie Eghrari, and Lisa Ferrell performed vital editorial and secretarial services. And Mary Coppola created the map. Thank you, all, for your skill and patience.