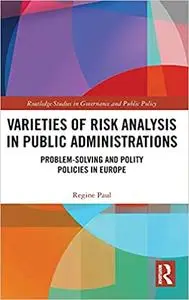 Varieties of Risk Analysis in Public Administrations: Problem-Solving and Polity Policies in Europe by Regine Paul
English | May 12, 2021 | ISBN: 0367141477, 0367767465 | 234 pages | PDF | 2 MB
This book sets out a novel conceptual and analytical framework to explain why risk analysis, cost-benefit analysis, and similar analytical tools have gained sizeable currency in public administrations, in comparative perspective.
Situated in critical interpretive policy analysis methodology, the book systematizes and innovates respective debates in three ways. First, it develops a novel typology of actors' appreciations of analytical tools as instrumental problem-solving, legitimacy-seeking, and power-seeking. It conceptualizes the latter two as "polity policies" with actors seeking to confirm or rework decision-making structures. Second, the book theorizes how executive fragmentation and the multiplication of coordination requirements – often treated as hindrances to substantial analytical turns in an administration – nourish actors' ideal typical appreciations of analytical tools in distinct ways. Lastly, it scrutinizes varieties of risk analysis across three risk-heavy policy domains in Germany (including the EU) and discusses the potential of risk analysis to stabilize or transform decision-making in multi-level settings.
This book will be of key interest to policy analysts and risk analysts, and scholars of European politics, comparative politics, policy studies, public administration, multi-level governance, EU studies, risk analysis, policy evaluation, and the political sociology of quantification.
My nickname -
interes