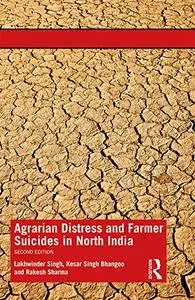 Agrarian Distress and Farmer Suicides in North India, Second Edition
Routledge | English | 2020 | ISBN-10: 0367220717 | 238 pages | PDF | 4.67 MB
by Lakhwinder Singh (Author), Kesar Singh Bhangoo (Author), Rakesh Sharma (Author)
This volume provides a comprehensive and detailed socio-economic overview of agrarian distress in India which has manifested in the suicides of farmers and agricultural labourers. Using empirical research and field data from rural India, especially Punjab, this book examines the underlying causes of farmer suicide and steps which can mitigate the crisis.
Covering nearly 1,400 rural households, the research in this volume identifies the various dimensions of the deepening crisis in agriculture and farming. It categorises the factors of the problem across different regions and estimates its extent and magnitude. In this updated edition the authors focus on instances of political mobilization and collective movements by farmers struggling to bring the issue of agrarian distress to attention. The book also discusses the implementation of state-waivered loans and compensations and their effect on the farming community.
Topical, comprehensive and rich in data, this book will be valuable to scholars and researchers of political economy, agricultural economics, South Asian politics, political sociology and public policy.
Review
'The research explores the roots and the various dimensions of Punjab's agrarian crisis through extensive empirical research in Punjab. While the work will be of particular interest to specialists in Punjab, the findings from this research will also be relevant for social scientists and economists exploring agrarian crisis in other parts of India and the developing world. The lucid writing and clear presentation will also help this monograph reach a wider audience, which deserves to be informed about this issue.' ―Nadia Singh, Economic and Political Weekly
'This book will help those (economists, sociologists, policy makers) who are interested in understanding the nature, gravity and causes of the agrarian crisis in the agriculturally developed state of Punjab. Policy suggestions made by the authors based on the analysis will be useful if taken seriously by policy makers to overcome the current farm sector crisis in the state of Punjab.' ―Prabhjot Kaur, Millennial Asia: An International Journal of Asian Studies
'A noteworthy study that provides much-needed insights into the nature and severity of the farm crisis in Punjab.' ―Sukhpal Singh, Frontline
About the Author
Lakhwinder Singh is a Professor at the Department of Economics and Coordinator at the Centre for Development Economics and Innovation Studies, Punjabi University, India.
Kesar Singh Bhangoo is a Professor of Economics at the Centre for Research in Economic Change, Department of Economics, Punjabi University, India.
Rakesh Sharma is an Assistant Professor of Economics at Sachdeva Girls College, Gharuan, Mohali, India.