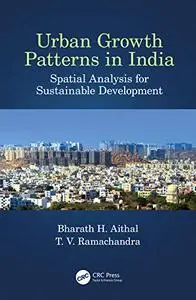 Urban Growth Patterns in India: Spatial Analysis for Sustainable Development by Bharath H Aithal, T.V. Ramachandra
2020 | ISBN: 0367225212 | English | 195 pages | PDF | 44 MB
This book uses spatio-temporal analysis to understand urbanisation in Indian cities and explain the concept and impact of global greenhouse gas (GHG) emissions. It creates a GHG footprint for Indian cities and engages in a discussion about the United Nations Sustainable Development Goals (SDGs) and smart city initiatives within an Indian context. Understanding the spatial patterns of land use/land cover (LULC) dynamics in the rapidly urbanising cities of India, the readers will be able to simulate future urbanisation patterns and use spatial temporal analysis as a tool for implementing appropriate mitigation measures.
Features
Analyses the complete urbanisation and urban sprawl of major cities in India using advanced geospatial modelling techniques
Highlights the best practices and methods used in modelling urban growth
Discusses greenhouse gas emissions from various sectors and their effects in local environments
Addresses the increase of local temperature in cities due to unplanned land use change and its impact on environmental sustainability and resilience
Fills the need for data-driven governance and policy decisions by introducing various analyses through spatial mapping
Highlighting some of the best practices and tools being used for modelling urban growth through case studies, the book is useful to those interested in using new technologies and methods for data collection and problem solving. It focuses on the major environmental issues in India, which are prevalent in most developing countries.