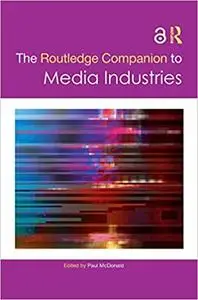 Paul McDonald, "The Routledge Companion to Media Industries "
English | ISBN: 0367225263 | 2021 | 578 pages | PDF | 9 MB
Bringing together 49 chapters from leading experts in media industries research, this major collection offers an authoritative overview of the current state of scholarship while setting out proposals for expanding, re-thinking and innovating the field.
Media industries occupy a central place in modern societies, producing, circulating, and presenting the multitude of cultural forms and experiences we encounter in our daily lives. The chapters in this volume begin by outlining key conceptual and critical perspectives while also presenting original interventions to prompt new lines of inquiry. Other chapters then examine the impact of digitalization on the media industries, intersections formed between industries or across geographic territories, and the practices of doing media industries research and teaching. General ideas and arguments are illustrated through specific examples and case studies drawn from a range of media sectors, including advertising, publishing, comics, news, music, film, television, branded entertainment, live cinema experiences, social media, and music videos.
Read more