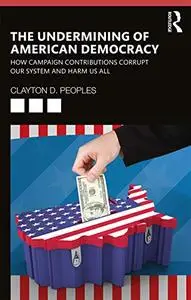 Clayton D. Peoples, "The Undermining of American Democracy: How Campaign Contributions Corrupt our System and Harm Us All"
English | ISBN: 0367342766 | 2019 | 138 pages | PDF | 2 MB
The public believes that politicians in the US favor special interests over their constituents and that our political institutions have become corrupt―and they are right. A growing body of evidence shows that special interests have disproportionate sway over policy via campaign contributions and lobbying. In this book, the author presents this evidence in a logical, understandable way; he then illustrates how campaign contributions harm our economy, exacerbate inequality, and undermine our democracy. One of the most startling findings of the book is that campaign contributions led to the Financial Crisis and Great Recession. The author concludes that campaign contributions have effectively created an oligarchy in the US, and, thus, reform is needed to save our democracy. The final chapter of the book suggests a number of different reforms that could be pursued―and highlights some ways in which these reforms can be achieved.