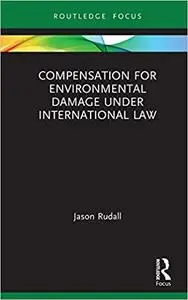 Jason Rudall, "Compensation for Environmental Damage Under International Law "
English | ISBN: 0367353237 | 2020 | 138 pages | PDF | 1300 KB
Inspired by recent litigation, this book identifies and critically appraises the manifold and varied approaches to calculating compensation for damage caused to the environment.
It examines a wide range of practice on compensation – in general and specifically for environmental damage – from that of international courts and tribunals, as well as international commissions and regimes, to municipal approaches and other disciplines such as economics and philosophy. Compensation for Environmental Damage Under International Law synthesises these approaches with a view to identifying their blind spots, bringing clarity to an area where there exists broad discrepancy, and charting best practices that appropriately balance the manifold interests at stake. In particular, it is argued that best practice methodologies should ensure compensation serves to fully repair the environment, reflect the emerging ecosystems approach and any implications environmental damage may have for climate change, as well as take into account relevant equitable considerations.
Read more