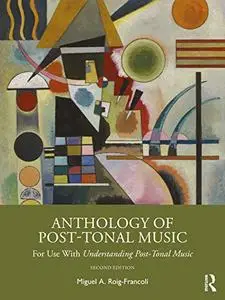 Anthology of Post-Tonal Music: For Use with Understanding Post-Tonal Music 2nd Edition by Miguel A. Roig-Francolí
2021 | ISBN: 036735540X, 0367355388 | English | 232 pages | PDF | 72 MB
This anthology of over 40 scores and excerpts represents a wide range of music from across the twentieth century and into the twenty-first century, from pieces by Debussy, Stravinsky, and Bartok to works by Arvo Pärt, Thomas Adès, and Kaija Saariaho. Showcasing the vast range of compositional styles encompassed in the post-tonal era, this volume offers a convenient compendium including hard-to-find scores. Designed for use with Understanding Post-Tonal Music by Miguel A. Roig-Francolí, which includes extensive analyses of the scores provided here, this anthology can also stand alone for study and analysis in other courses on the history and analysis of post-tonal music.