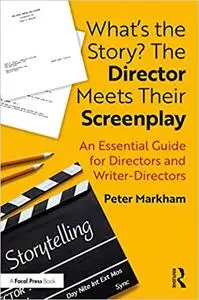 Peter Markham, "What's the Story? The Director Meets Their Screenplay"
English | ISBN: 0367415879 | 2020 | 202 pages | PDF | 20 MB
A structured perspective on the crucial interface of director and screenplay, this book encompasses twenty-two seminal aspects of the approach to story and script that a director needs to understand before embarking on all other facets of the director's craft.
Drawing on seventeen years of teaching filmmaking at a graduate level and on his prior career as a director and in production at the BBC, Markham shows how the filmmaker can apply rigorous analysis of the elements of dramatic narrative in a screenplay to their creative vision, whether of a short or feature, TV episode or season. Combining examination of such fundamental topics as story, premise, theme, genre, world and setting, tone, structure, and key images with the introduction of less familiar concepts such as cultural, social, and moral canvas, narrative point of view, and the journey of the audience, What's The Story? The Director Meets Their Screenplay applies the insights of each chapter to a case study―the screenplay of the short film Contrapelo, nominated for the Jury Award at Tribeca in 2014.
This book is an essential resource for any aspiring director who wants to understand exactly how to approach a screenplay in order to get the very best from it, and an invaluable resource for any filmmaker who wants to understand the important creative interplay between the director and screenplay in bringing a story to life.