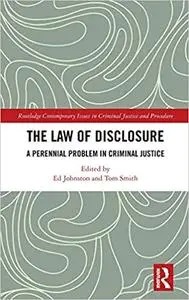 The Law of Disclosure: A Perennial Problem in Criminal Justice by Ed Johnston and Tom Smith
English | November 15, 2020 | ISBN: 0367420147 | 152 pages | PDF | 10 MB
This edited collection explores the topic of disclosure of evidence and information in the criminal justice process.
The book critically analyses the major issues driving the long-standing problem of dysfunctional disclosure practice, with contributions from academics, lawyers, former police officers, and current police policymakers. The ultimate objective is to review the key problems at the investigative, trial and post-conviction stages of criminal proceedings, and to suggest a way forward through potential routes of reform, both legal and cultural. The collection represents a significant and novel contribution to the policy debate regarding disclosure, and advances thought on resolving this issue in a fair and sustainable manner.
The book provides a valuable resource for academics, practitioners and policymakers working on this vital aspect of criminal procedure.
My nickname -
interes