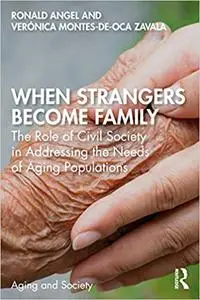 Ronald J. Angel, "When Strangers Become Family: The Role of Civil Society in Addressing the Needs of Aging Populations "
English | ISBN: 036745999X | 2021 | 266 pages | PDF | 5 MB
As the 21st Century unfolds, the traditional welfare state that evolved during the 20th Century faces serious threats to the solidarity that social programs were meant to strengthen. The rise of populist and nationalist parties reflects the decline of a sense of belonging and inclusiveness that mass education and economic progress were meant to foster, as traditional politics and parties are rejected by working- and middle-class individuals who were previously their staunchest supporters. Increasingly, these groups reject the growing gaps in income, power, and privilege that they perceive between themselves and highly educated and cosmopolitan business, academic, and political elites.
Read more