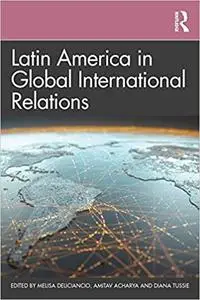 Latin America in Global International Relations by Amitav Acharya, Melisa Deciancio
English | Jul 30, 2021 | ISBN: 0367464713, 0367464705 | 280 pages | PDF | 5 MB
Using decades of their own insight into teaching undergraduate International Relations (IR) courses, leading experts offer an introduction to IR thinking throughout history in Latin America, unfolding ideas, voices, concepts and approaches from the region that can contribute to the broader Global IR discussion.
The book highlights and discuss the growing possibility of a Latin American agency, defined broadly to include both material and ideational elements, in regional and international relations, covering areas where Latin America's contributions are especially visible and relevant, such as regionalism, international law, security management, and Latin America's relations with the outside world. This is not about exclusively "Latin American solutions to Latin American problems", but rather about contributions in which Latin Americans define the terms for understanding the issues and set the terms for the nature and scope of outside involvement.
Written with verve and clarity, Latin America in Global International Relations exposes readers to the relevance of redefining and broadening IR theory. It will serve as a guide for instructors in structuring their courses and in identifying the place of Latin America in the discipline.
My nickname -
interes