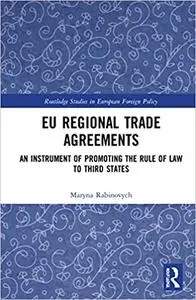 Maryna Rabinovych, "EU Regional Trade Agreements: An Instrument of Promoting the Rule of Law to Third States"
English | ISBN: 0367468468 | 2021 | 238 pages | PDF | 2 MB
This book unveils the potential of utilizing EU Regional Trade Agreements (RTAs) as an instrument of promoting the rule of law to third states.
In doing so, the book combines development economics, foreign policy and legal perspectives at three levels of analysis of four sectors to introduce the concept of "EU value-promoting RTAs". The book demonstrates that the EU RTAs bear considerable potential to be strategized as instruments of promoting the rule of law in third states, requiring, however, overcoming strict divides between EU political and economic cooperation, and values and acquis conditionality in its relations with third countries.
This book will be of key interest to scholars and students of European Studies, European Union Law, EU external action/foreign policy, EU trade agreements and Development Studies, as well as to NGOs and think tanks that work on European affairs.