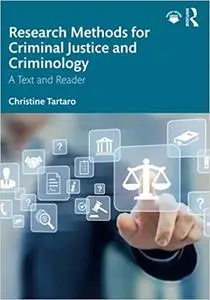 Christine Tartaro, "Research Methods for Criminal Justice and Criminology"
English | ISBN: 0367508893 | 2021 | 502 pages | PDF | 5 MB
This book explains and illustrates criminal justice research topics, including ethics in research, research design, causation, operationalization of variables, sampling, methods of data collection (including surveys), reliance on existing data, validity, and reliability. For each approach, the book addresses the procedures and issues involved, the method's strengths and drawbacks, and examples of actual research using that method. Every section begins with a brief summary of the research method. Introductory essays set the stage for students regarding the who, what, when, where, and why of each research example, and relevant discussion questions and exercises direct students to focus on the important concepts.
Research Methods for Criminal Justice and Criminology: A Text and Reader features interesting and relevant articles from leading journals, which have been expertly edited to highlight research design issues. The text offers instructors a well-rounded and convenient collection that eliminates the need to sift through journals to find articles that illustrate important precepts. All articles are recent and address issues relevant to the field today, such as immigration and crime, security post-9/11, racial profiling, and selection bias in media coverage of crime. Ensuring a rich array, additional articles are downloadable at the Support Materials tab at
www.routledge.com/9780367508890
.
The book encourages classroom discussion and critical thinking and is an essential tool for undergraduate and graduate research methods courses in criminal justice, criminology, and related fields.