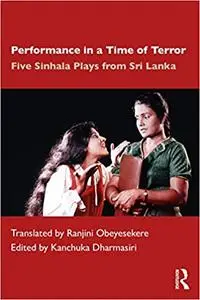 Performance in a Time of Terror: Five Sinhala Plays from Sri Lanka by Kanchuka Dharmasiri
English | March 30, 2021 | ISBN: 0367541521, 0367625156 | 174 pages | PDF | 2 MB
This volume is a collection of five Sinhala plays, translated into English, which were written and performed during the most violent phase of modern Sri Lankan history.
Ranjini Obeyesekere's translation of these five well-known and celebrated plays by K. B. Herath, Prasannajith Abeysuriya, Dhananjaya Karunarathne, Prasanna Jayakody and Rajitha Dissanayake highlights and explores the dynamic period of Sri Lankan theater and performance arts in the 1980s and 1990s. The plays in this collection offered a political space for criticism, introspection, discussion and protest during a time of suppression of voices, political violence and terror. Audiences flocked to the theater to watch plays produced by talented dramatists and artists who were experimenting with forms and themes under extremely challenging circumstances, shoe-string budgets and strict censorship. Kanchuka Dharmasiri's introduction to the volume further details the history and socio-political contexts of the theater of this period, discussing themes such as dissent, identity and the brutal power of the state. She also looks at the unique formal elements employed in these plays as well as their influence and reach.
This volume is a significant addition to the growing corpus of Sinhala literature in translation. It will be an essential read for scholars and researchers of literature, performance studies, cultural studies, and the politics and history of Sri Lanka.
My nickname -
interes