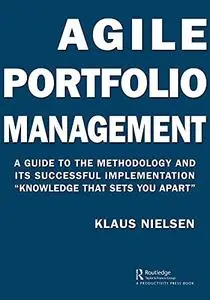 Agile Portfolio Management: A Guide to the Methodology and Its Successful Implementation "Knowledge That Sets You Apart"
by Klaus Nielsen
English | 2021 | ISBN: 0367650932 | 349 pages | True PDF | 11.39 MB
Agile Portfolio Management deals with how an organization identifies, prioritizes, organizes, and manages different products. This is done in a streamlined way in order to optimize the development of value in a manner that's sustainable in the long run. It ensures that a company provides their clients with the best value for their investment. A good portfolio manager understands and follows the agile principles while also considering the various factors needed to successfully manage numerous teams and projects.
The project management offices of many organizations are faced with the reality of more and more agile deliverables as part of agile transformations; however, they lack the knowledge to perform these tasks. Researchers and practitioners have a good understanding of project, program, and portfolio management from a plan-based perspective. They have common standards from Axelos, PMI, and others, so they know the best practices. The understanding of agile on a team level is fairly mature and the knowledge of more agile teams (scaling) is increasing. However, the knowledge of agile portfolio management is still limited. The aim of this book is to give the reader an understanding of management of a portfolio of agile deliverables, what the options are (theory), what we know (research), and what others are doing (practice).
Many organizations in banking or insurance, to name a few, are in the middle of major agile transformations with limited knowledge of the practice. In this book, the author collects and analyzes common practices in various industries. He provides both theory and, through case studies, the practical aspects of agile portfolio management.