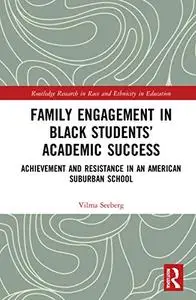 Family Engagement in Black Students' Academic Success: Achievement and Resistance in an American Suburban School
Routledge | English | 2021 | ISBN-10: 0367721775 | 264 pages | PDF | 15.88 MB
by Vilma Seeberg (Author)
This timely volume presents powerful stories told by Black families and students who have successfully negotiated a racially fraught, affluent, and diverse suburban school district in America, to illustrate how they have strategically contested sanctioned racist practices and forged a path for students to achieve a high-quality education.
Drawing on rich qualitative data collected through interviews and interactions with parents and kin, students, community activists, and educators, Family Engagement in Black Students' Academic Success chronicles how pride in Black American family history and values, students' personal capabilities, and their often collective, proactive challenges to systemic and personal racism shape students' academic engagement. Familial and collective cultural wealth of the Black community emerges as a central driver in students' successful achievement. Finally, the text puts forward key recommendations to demonstrate how incorporating the knowledge and voices of Black families in school decision making, remaining critically conscious of race and racial history in everyday actions and longer term policy, and pursuing collective strategies for social justice in education, will help eliminate current opportunity gaps, and will counteract the master narrative of underachievement ever-present in America.
This volume will be of interest to students, scholars, and academics with an interest in matters of social justice, equity, and equality of opportunity in education for Black Americans. In addition, the text offers key insights for school authorities in building effective working relationships with Black American families to support the high achievement of Black students in K-12 education
Review
This volume offers powerful counter narratives to prevailing deficit assumptions about Black students' school achievement and levels of parental engagement, with nuanced stories of ways Black families used cultural funds of knowledge and demonstrated agency in actively challenging systemic racism while supporting students' academic success. Seeberg and collaborators provide rich examples of ways Black students contested racist practices in an affluent and diverse suburban district, and how community organizing for educational justice was persistent and effective over the long term. Blending sociology and anthropology of education in accessible and compelling ways, this book is a must read for all who are committed to building strong school-community relations with families of color and addressing persistent opportunity gaps in US educational contexts.
- Beth Blue Swadener, Professor, Justice & Social Inquiry and Social & Cultural Pedagogy, Arizona State University, USA
This important book describes both the challenges and the opportunities associated with being an African American family that successfully navigated the Shaker Heights school system. The researchers point to the keys to success for families like ours: constant parental involvement, a student who took full advantage of the curricular and extra-curricular programs offered by Shaker Heights High School in particular, and a clear expectation made known to our son and to all his teachers that we expected him to be prepared for enrollment in any college of his choice upon graduation from high school. Academic success is a refutation of the centuries long assumption in many quarters of American society that African American children cannot or will not learn. There was never any truth to this assumption, but prejudices and policies have often frustrated students attempting to achieve at the highest academic level. I was serving as School Board president to signal that racism in the schools required system-wide attention and effort when the study that resulted in this book first began. This book shows how parents, students, teachers, and school policy makers can work together to bring about student success.
- Marvin McMickle, Pastor Emeritus, Antioch Baptist Church, Cleveland, OH, USA
Returning to the research site of Shaker Heights High School and District, Vilma Seeberg inverts John Ogbu's questions about Black underperformance to inquire into Black resilience despite formidable challenges. Armed with Critical Race Theory as their chosen lens, Seeberg and the Shaker Research and Parent Team draw our attention to Black folks' discourses of defiance against despair and deficit orientations. Educational success for their children is precisely a form of acting Black while navigating a social system, including its schools, that does not have their best interests at heart. Family Engagement is a counter-story about education as an arc of hope for everyday people who refuse the long shadow of injustice. One can't help rooting for them after reading the book.
- Zeus Leonardo, Professor and Associate Dean of Education, University of California, Berkeley, USA and author of Edward Said and Education
About the Author
Vilma Seeberg is associate professor emerita in international/multicultural education at Kent State University, USA.