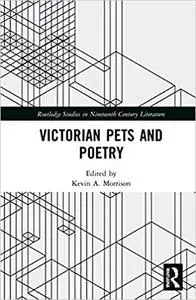 Kevin A. Morrison, "Victorian Pets and Poetry "
English | ISBN: 0367768801 | 2021 | 220 pages | PDF | 11 MB
Some of the most celebrated poets of the Victorian era wrote―at times movingly or humorously―about their pets. They did so in a wider literary context, for poetry about pets was ubiquitous in the period. Animal welfare organizations utilized poems about canine and feline suffering in institutional publications to call attention to various abuses. Elegies and epitaphs over the loss of a beloved cat, songbird, or dog were printed on funeral cards, tombstones, and appeared in mass-produced poetry collections as well as those intended for an intimate circle of friends. Yet poems about pets, as well as attendant issues such as breeding and overpopulation, have not received the kind of critical analysis devoted to fictional works and short stories. With an introduction, afterword, and eight essays offering new perspectives on significant as well as lesser known poems, Victorian Pets and Poetry remedies this omission.