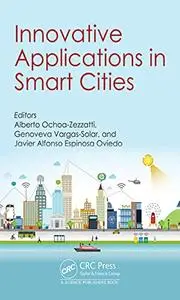 Innovative Applications in Smart Cities
by Alberto Ochoa-Zezzatti
English | 2021 | ISBN: 036782096X | 283 pages | True PDF | 12.44 MB
This book is a compilation of chapters on scientific work in novel and innovative reference that compiles interdisciplinary perspectives about diverse issues related with Industry 4.0 and smart cities in different ways, i.e., intelligent optimisation, industrial applications in the real world, social applications and technology applications with a different perspective about existing solutions. Chapters review research in improving optimisation in smart manufacturing, logistics of products and services, optimisation of different elements in the time and location, social applications to enjoy our life of a better way and applications that increase daily life quality. This book covers applications of Industry 4.0; applications to improve the life of the citizens in a smart city; and finally, welfare of the working-age population and their expectations in their jobs correlated with the welfare-work relationship.